Trance parties you must attend at ADE this year!
---
It's that time of the year again. In less than a month, everyone from the electronic music industry makes their way to the celebrated Amsterdam Dance Event (ADE). It's a common meeting ground for all professionals, artists, media members and everyone who is associated with the music industry. The event includes a day schedule where people meet and socialise. Post this, there are a large number of night parties that are spread across these five days.
Considering we cover all thing trance, we decide to list down all the trance parties that take place during this event. Makes it easier for you to check them off the bucket list! Do attend these if you are there this time. We too will be party hopping this year!
Also, a few days have more than one party happening. We would love to know your suggestions as to which party we should end up going to and which ones you are planning to attend.
18th October
In Trance We Trust – WesterUnie/WesterLeifde/ Transformatorhuis
Menno De Jong is back with his legendary night, In Trance We Trust. Going by the name, it truly is one event that every trance fan attends as it always boasts of a spectacular line-up. Embarking on its third expedition, this one is determined to take it to the next level yet again. Taking place on the 18th of October, it will be a truly spectacular event which will be held at the characteristic industrial events complex that includes Transformatorhuis, WesterUnie and WesterLiefde.
For tickets check here
19th October
A State Of Trance @ ADE – AFAS Live
Armin Van Buuren brings his A State of Trance Festival for a special ADE showcase. The name of the festival is big enough to attract trance fans from all over the world. Consisting of a spectacular line-up, the festival is one you should catch for its massive production. Also, the event will be broadcasted live! So, if you miss this one, you can always catch the stream!
For tickets check here
Luminosity @ ADE – Club Panama
Luminosity has always had a reputation of having a very well rounded line up and their current showcase at ADE doesn't fail to impress yet again. The event will be taking place at the famed venue – Club Panama. Having completed 10 years this year and having a spectacular festival this year, we are sure this one will be crazy!
For tickets check here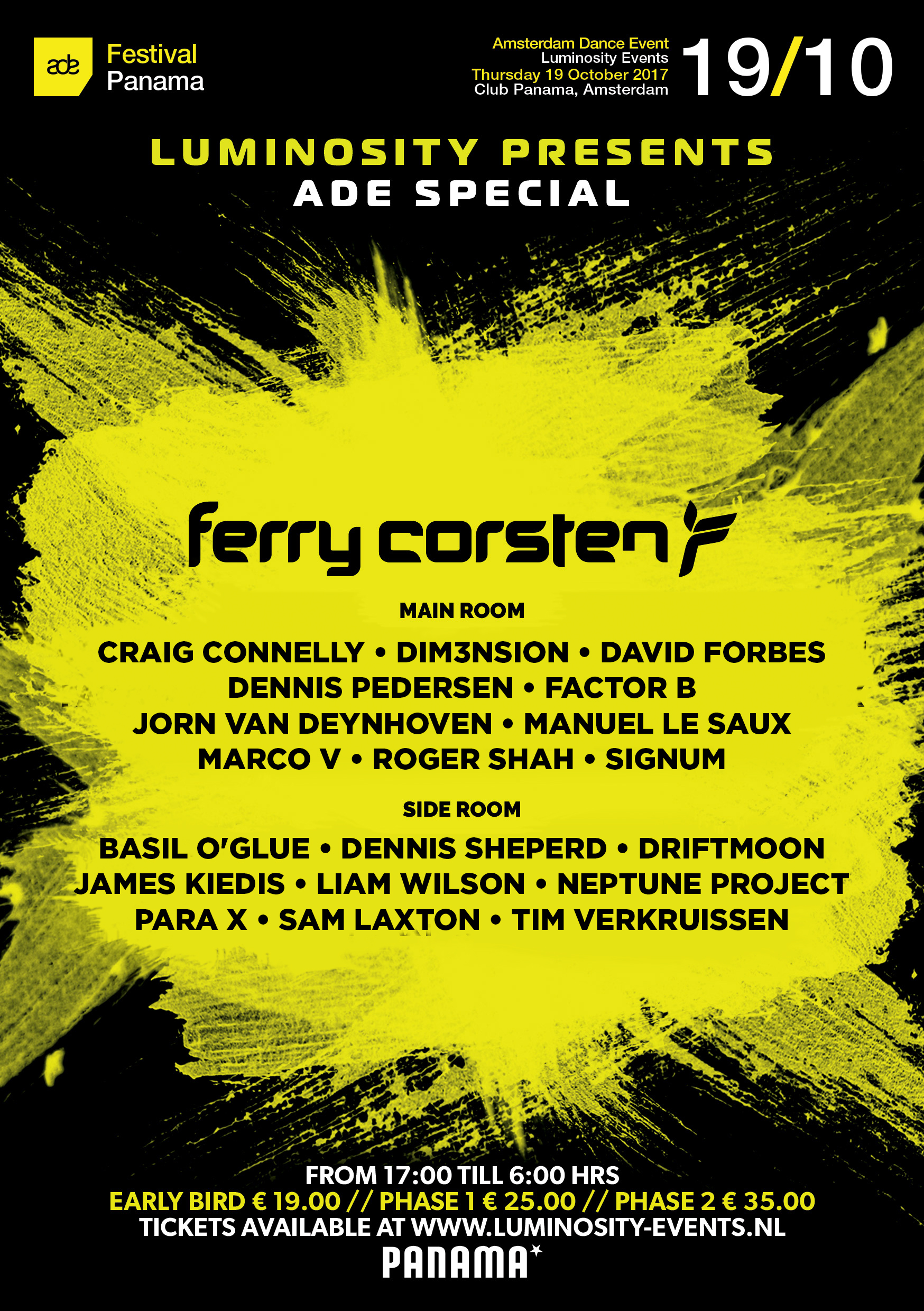 20th October
Markus Schulz, Open to Close – Melkweg
After his amazing sold out "Watch the World" Open to Close Live Set at Amsterdam Dance Event last year, Markus Schulz is back. German-born, but Miami-based DJ Markus Schulz is one of the hardest working DJs in the dance music industry. Both as club DJ, managing his label ColdHarbour Recordings and host of the influential radio show Global DJ Broadcast, the trance platform in the EDM industry. With his signature hybrid trance sound he is responsible for hits such as 'Love Rain Down' and 'Not The Same' with spine-tingling melodies and outrageous bass lines. With his all-encompassing passion for trance he shows no sign of slowing down!
For tickets check here
21st October
Quest4Trance & Solarstone present Pure Trance – Postillion
Electronic dance music fans are already eagerly anticipating that one week in October, when Amsterdam is the pulsing heart of dance land: Amsterdam Dance Event. Solarstone, whose world-renowned Pure Trance brand has been part of the ADE experience with sold-out shows for the past 5 years, makes his grand return in 2017. In collaboration with Quest4Trance, he lands the Pure Trance ADE 2017 event at KBF Complex, a nostalgic and industrial, former chewing gum factory at the hot & happening Amstelkwartier, close to downtown Amsterdam. Mark your agenda for Saturday October 21st, for a night of Pure Trance!
The ADE exclusive line-up of international trance names included Bryan Kearney, Gai Barone, Giuseppe Ottaviani (Live 2.0), John O'Callaghan, Robert Nickson (Live) and Solarstone. Prepare for long sets and a feel-good atmosphere.
For tickets check here
Purple Haze Album Release Party –Chin Chin Club
The date is set. On Saturday, October 21st, Purple Haze takes over Chin Chin Club for an exclusive album release party during Amsterdam Dance Event!
The night features a very special line-up to compliment the audio-visual spectacular that is the Purple Haze live show. Be prepared for something truly different as Sander van Doorn presents one of the pinnacles of his creative achievements.
For tickets check here
Amsterdam Music Festival – Amsterdam ArenA
This is not really trance except for the fact that we have Armin Van Buuren playing at the stage with Hardwell. Though this has a very commercial line up, this is the place where the DJ Magazine top 100 list is announced. Also, the enormous event has some crazy production and sound! If you make to Amsterdam for ADE, AMF is a must visit! If not for the whole event, at least try staying there for a bit to soak in this colossal vibe.
For tickets check here
These are the parties that we think you surely must attend! Where will we be seeing you? Let us know in the comments below!
Next Post
Interviews
Kyau and Albert tell us why they love trance and India!
Kyau and Albert head back to India this week to celebrate the completion of two...